AWOL was formed in 1989. Here is a brief history of how the band evolved:
In college, Jeff Garrett was introduced to Phil McDonell, and joined his band which was to be called "Rough Edge". The first song they played was "New Girl Now", which still finds its way into the set-list. Neil Sheridon was on drums, Brock Chambers on guitar, Jeff on keyboards, and Phil on bass and lead vocals. They played at The Bay, Coquitlam store twice (Jeunesse/Ladies' Purses), as well as many summer parties and barbecues.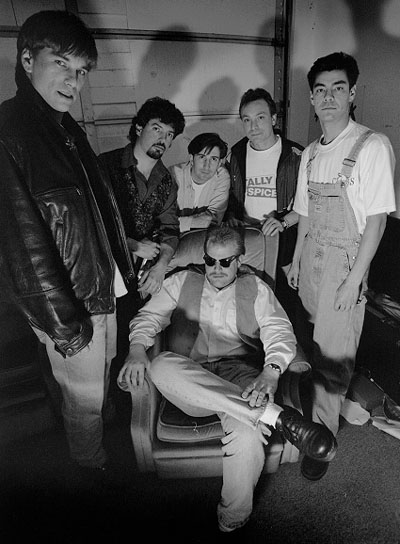 The band came across Jeff Blair at Expo in 1986, performing with another band. He was asked to join "Rough Edge", so he bought some gear and moved in. The band rose to the height of their popularity selling out dances at Hyde Creek, and thrilling their fans at Jam nights across town.
Brock left the band and was replaced by James Rayner, and a not so successful studio attempt was made. A really cool logo was furnished for the band, and a few gigs followed before James and Neil left the band. Then came Milton Skaalrud (on drums) and a guitar player named Guy (nobody remembers his last name). Guy left and in came Blaine St. Arnault on guitar. "AWOL" was born! Actually, "Reel to Real" was the band's original name, but that's just trivia. Three studio produced songs were made, many more originals were written, and the band climbed in popularity with every gig.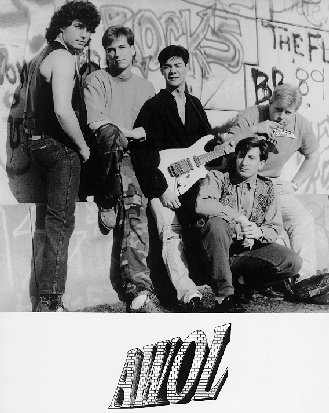 In 1994, "AWOL" achieved a second place finish in the B.C. Exposed Talent Search. Soon after, Milton took to the guitar in a serious manner, traded in his drums for an axe, and we were then a two-guitar band. Needing a capable drummer, long time friend of the band Tony Watkins was enlisted to fill out the duties.
Tony had played with Jeff Blair and James Rayner in the band "Faze" from 1978 to 1980. They later formed a band with a name "too cool for anyone to remember" that lasted until 1984.
This version of the band was then to become the first incarnation of "24seven"!!
In January of 1998 Milton decided to leave the band after a long and eventful stay. He still plays and is a very talented song-writer. The year 2000 saw the departure of  Phil McDonell after 15 years in the band. He was replaced by Lionel Dawe.
Lionel also plays with "The Hedgehogs". This band has a history as long as that of "24seven", and the talents of both bands have been shared from time to time over the years. Singer/drummer Fraser McKeen has fronted "24seven" in Jeff Blair's absence, and guitarist Al Craig sat in with the band on numerous occasions in the band's earliest stages.
Lionel remained on bass until May, 2003. After departing to devote himself full time with "The Hedgehogs", the hunt was on for another bassist. Marshall Fishwick was dug out of Blaine's past and soon enlisted and given the monumentous task of learning the bulk of 24seven's material in less than 2 months. A new bass and amp later (minus a lot of sleep), Marshall found himself in the steadfast position of the band's anchor.
AWOL – Live 1994 – Big Bamboo, Vancouver, BC
Classic footage from the "B.C. Exposed Talent Search"!
Original AWOL songs performed LIVE:
– Blue
– All Alone
– Rockin' In A Rolls
plus…
Jam Session footage from Jeff Blair's house – circa 1995
– Impromptu Instrumental
– I Hate Everything About You (Ugly Kid Joe cover)